Charming & Interesting News of My Miniature Pinschers:
04/05/2008
BILLY-JEAN
Austrian Champion!!!!
02/05/2008
DIANA ROSS
Montenegro Champion!!!!!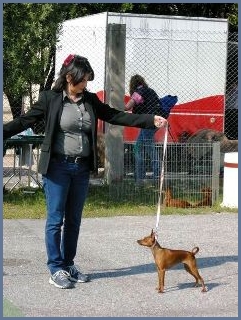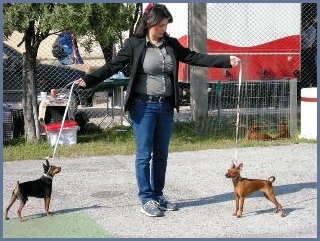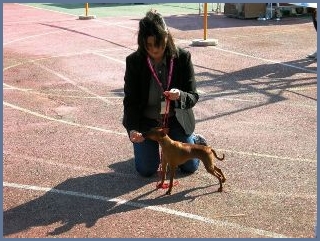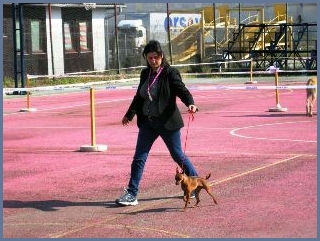 Thank you Cristina Modafferi!
29/04/2008
Himiyana-Lola...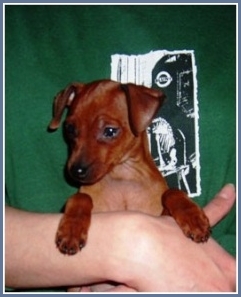 ... with her new family
April 2008
Asia vom Kösslbachtal is pregnant ... wow .. that little girl!!! Middle of may there will be born the first kids of Brando Master of Masterhof ba Gaby Loetsch and Ivano Conto'- middle of May it will happen..
25/04/2008
Halle Berry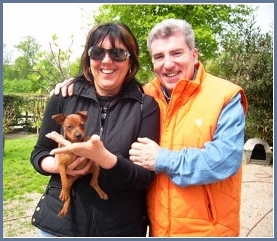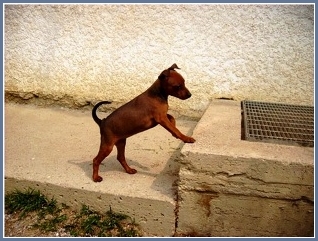 ... with her new family
Fabio DI BIAGGIO e Mary VISINTIN
19/04/2008
J-Litter: 3 male Puppies born
Ray Man de la Croix Giboreau x Red Ruby vom Kösslbachtal
18/04/2008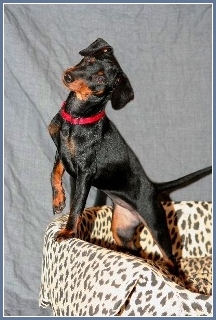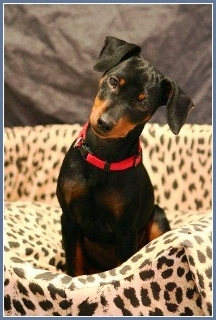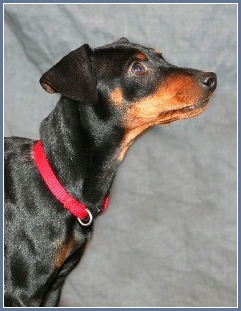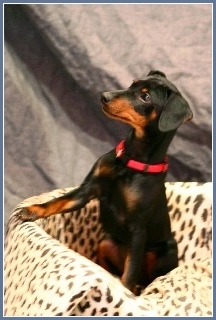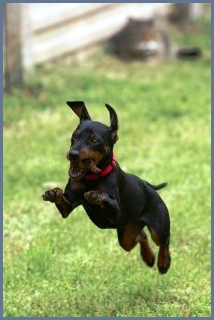 Gina Lollobrigida
Thank you so much
Sara and Gianni
for these beautiful pictures
of my little jewel!
13/04/2008
AnnaKarenina CAC CACIB BOS Int.Show WIESELBURG/Österreich
V1, CAC, CACIB BOS Dt.PINSCHER
14/03/2008
I-Litter: 2females
Diablo Moro di Conto Ivano x Theneican's Xamanta at Kösslbachtal
24/02/2008
H-Wurf: 2♂ & 3♀
René vom Kösslbachtal x Abigail
10/02/2008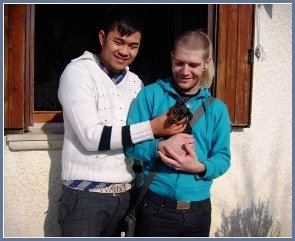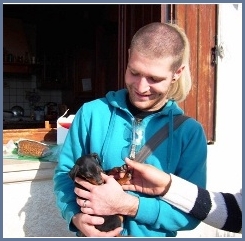 Giselle Bündchen, daughter of Ryan vom Kösslbachtal x Celine Dion......
was picked up tpday to go to her new family in Austria..
23/01/2008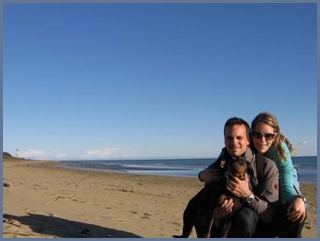 Anna Karenina 1 year with Alexander, Jacqueline...... !!!!
20/12/2007
Ben Affleck & Ciro Ferrara
German Pinscher B-litter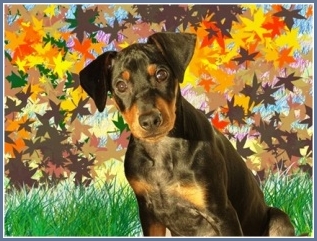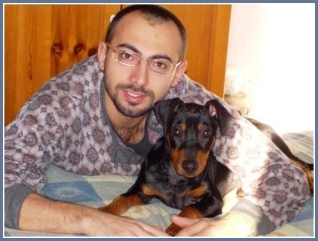 11/12/2007
Ryan vom Kösslbachtal x Celine Dion...... G-Litter
..3 black rust female puppies ... I am so happy about the first litter of both:
Ryans and Celine Dion.
02/12/2007
AnnaKarenina Jugendbeste V1 Int.Show Wels/Österreich
V1, JUGENDBESTE Dt.PINSCHER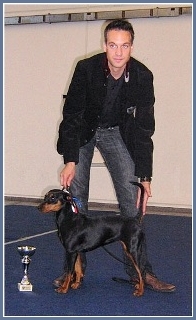 AnnaKarenina Youthwinner ECC1 Int.Show Wels/Austria
thank you so much, Alexander and Jaqueline Sonnweber, that you love and take so much care of AnnaKarenina "Minou" .. You made me very happy that you presented her at this International Austrian Show!.... GREAT! Compliments for the Winner:
ECC1, YOUTHWINNER German Pinscher
December 2007
Ryan vom Kösslbachtal x Celine Dion......
..the second week of December we are exspecting Ryans and Celine Dions puppies to be born...
29/10/2007
Baron Brunello & Fabian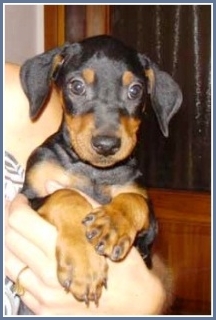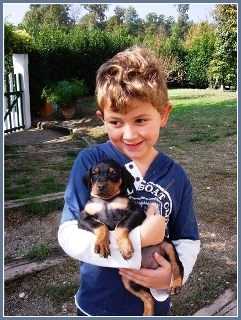 October 2007
...marriage between CH Tino vom Kösslbachtal , Bundessieger 2006 with BOB, LUX-JCH and Ombrettas darling sweet BOB Connie Francis, a beautiful black-rust bitch.
30/09/2007
ANDY GARCIA Bundesjugendsieger 2007
ANNALISA Bundesjugendsieger 2007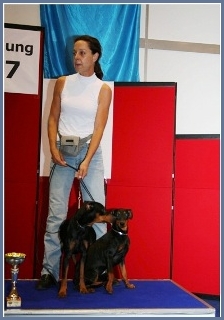 Today was a very important one for me as breeder.... my 2 own breeded German Pinscher got at the Austrian Bundessieger Show the best of Juniors. And not just this... at the ring of honour they ran for me the 3rd best of Show in couple.
Thanks a lot to my Babies Andy Garcia and Annalisa and to Werner and Regina Kietaibl for their adorable parents...Yago and Espe vom Awarenring!!!
E2x CC1, STATE YOUTHWINNER 2007
29/09/2007
BILLY-JEAN Clubwinner 2007
Thank you so much, Regina und Werner Kietaibl, for the Austrian Youthchampion Title of my little Billy! AND NOW.... the Clubwinnershow 2007! it's like a dream for me......
ECC1, CAC CLUBWINNER 2007
02/09/2007
B-Litter German Pinscher by Gaby Lötsch-Pellegrini
Andy Garcia, Bundes Jugendsieger 2007 x Pandora vom Awarenring
23/08/2007
Yago vom Awarenring x Espe vom Awarenring !!!!!
Whome else than our dear friend and official Handler of our dogs could I offer to repeat that great first litter of Yago and Espe!!!!!
Yago vom Awarenring x Espe vom Awarenring !!!!!
15/04/2007
BILLY-JEAN
Austrian Youth Champion!!!!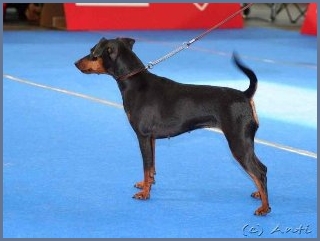 Congratulations to Regina und Werner Kietaibl "Vom Awarenring" for this big success with their first miniature pinscher!!!
28/02/2007
Unito vom Kösslbachtal...
..proud father of 5 little girls! .... 3 black-rust and 2 red puppies.
Stella vom Kösslbachtal 's first litter.
25/02/2007
YAGO vom Awarenring & Little Kings Gizmo v Soritas
BOB on Int Show of ANCONA/Italia
30/12/2006
D-Litter
....proudly I present You my new puppies !!!!! .... I repeat myself.... but... well its okey .. Abigail did her "job" as it were not her first one... she knew mayby that I was without assistance of Diana ..... THANKS ABI for those 4 black-rust & 3 red puppies ...
20/10/2006
My first litter of German Pinscher..........
......was born today. So proud about those 5 little puppies, 2 black/rust girls, 1 black/rust boy and 2 red boys are Champion Espe vom Awarenring and sire MultiChampion Yago vom Awarenring.
01/10/2006
CACIB Bundessieger Austria 2006
Today I presented our 3 males on this most important Austrian show. My two boys Tino (Jimmy) and Unito (Amore) were in good company with Yago, Dianas Pinscher. Here our personal results:
Miniature pinscher:
Tino vom Kösslbachtal: ECC1, CAC,CACIB, BUNDESSIEGER 2006 e BOB
Unito vom Kösslbachtal: ECC1, BUNDESJUGENDSIEGER 2006
Pinscher:
Yago vom Awarenring: ECC1, CAC,CACIB, BUNDESSIEGER 2006
I was so sorry to be there without Diana, but she had to keep at home our other dogs. This was a great day for her kennel and also for our friends Werner and Regina Kietaibl of Kennel "vom Awarenring".
30/09/2006
YAGO VOM AWARENRING - Clubwinner 2006!!!!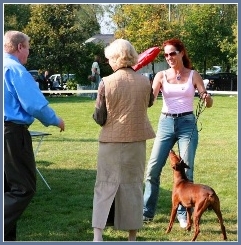 Today I presented on behalf of Diana her German Pinscher Yago vom Awarenring on the Austrian Club Winner Show in Stockerau and I proudly present his results:
ECC1, CAC, CLUBWINNER 2006
September 2006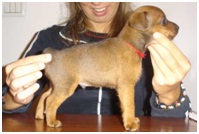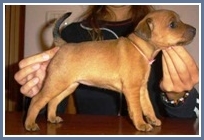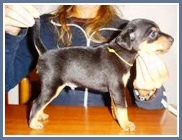 Tino vom Kösslbachtal ... once more sire of a marvellous litter
Amelie ... happy mother of her first litter...... and compliments to Marina for her well-done choice
Juni 2006
TINO's first kids
Curaçao-, Cherokee-, Caipiriña-, Carramba-, Cartagena- und California vom Kösslbachtal.....
the lucky and marvellous mother of those 2 boy and 5 girls:
MERCEDES VOM KÖSSLBACHTAL
...thanks to Diana to have chosen Tino for this so marvellous litter!!!!!
12/05/2006
C-Litter
....proudly I present You my new puppies !!!!! 3 boys: 2 red and 1 black-rust & 2 black-rust girls ...
15/04/2006
Theneican's Xamanta at Kösslbachtal
is pregnant after AM-LUX-CH Little Kings Gizmo v Soritas. The puppies should be born the first week of May.
25/03/2006
CACIB Luxembourg 2006
Today Saturday there was the FCI-Group 2 to battle for the so famous titles of this Show…. Of course it was Pinscher and Miniature Pinscher time! Well, I thought that it was a little bit risky to send at his vers FIRST Show my little Boy…..but, once everybody has to begin, isn't it? And he did his best
TINO vom Kösslbachtal "Youth Champion Luxembourg"
And the rules say, that just a special beautiful dog will get the title, not just the judges excellent.. He is a small, but GREAT boy – my baby TINODUE……
13/01/2006
Here I would like to thank particularly my daughter Diana.
She alone brought me with her efforts for many years around the preservation and perfecting of this so marvelous race, evenly to the Zwergpinscher. Now I am not any more the "large races best hunting dogs lover" but lover of the "king of toys" -that great Zwergpinscher (Miniature Pinscher). German and Dobermann Pinscher conquered me too. - I understood and loved dogs always well because i was growing up with dogs. But concerning education and selection and in general the view for a beautiful, speak healthy dog.... that I learned from her.
Those Zwergpinscher of Kösslbachtal are idol and model for what I am trying to do in the future breeding this marvelous race and I enjoy it standing in the shadow of Dianas Minpins.
13/01/2006
New arrival in my kennel:
it seems to me like a fairy tale: my favourite male puppy out of Diana's T-Litter is now my own - side by side with Deejay "Paddy".
13/12/2005
Congratulations to ATHOS and of course to Natascha and Stephan for this first big success...he passed the first grade of puppies-exams.
19/09/2005
B-Litter of Xamanta & Kenzo
This morning at half past six Sammy presented her new born and first puppies – the proud Father of those 3 pretty little girls is once more "Kenzo vom Kösslbachtal".
01/07/2005
Gins' first litter by Gaby Loetsch
Finally I turned proud "Mamma" of my first litter. Thanks to Gin and Kenzo who did a great job!
24/04/2005
So happy……
Gin di Kristianden, Italian Champion and my special love since she came into our home is now the first bitch in my new own kennel. Thanks to Diana who made this possible.
09/12/2003
Deejay vom Kösslbachtal!!!!!
My very first Miniature Pinscher……
..now he is mine .... after a lot of puppies I gave my love.....Paddy ........