W E L C O M E T O M Y H O M E P A G E !
My name is Gaby, I am Austrian living in my adoptive country Italy.
When I was a child I used to read a lot of books and I especially loved all fairy tales with dwarfs and mites. My childhood dream has come true: For the past 15 years they live with me ... my own dwarfs ... I could not miss them anymore!
Some years ago my daughter Diana brought a new family member to our home: Yago vom Awarenring, a German Pinscher - outstanding beauty and character. I couldn´t help falling in love with him! And this was the beginning of my breed selection and kennel of German Pinschers.
Of course I couldn´t do everything just by myself! Sure!
Therefore, I thank ...
... my daughter Diana for always being with me with all her knowledge about dog breeding and bringing up and educating the puppies
... my divine husband Valerio, for his patience with the crazy little rascals and the all around ;-)
... my dearest friend Kathrin
... and in particular all the breeders, who became true friends over the years, for their availability to change experience, coordinate selection and breeding ... and for having a nice little chat sometimes.
Thank you so much!
Gaby
***
L A S T U P D A T E : 02.12.2013
> available <
> X Litter - Miniature Pinscher <
> Miniature Pinscher Litters <
> Achievements <
> guestbook <
***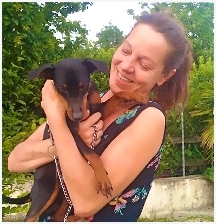 Gaby Loetsch-Pellegrini
Viale degli Olmi 9 33079 Sesto al Reghena Italy
phone: 0039 340 540 7342
e-mail: gabypellegrini@hotmail.com